Bloom vs Iris: The Philips Hue Bloom and Iris are confusingly similar. Both of these multi-color light fixtures paint your walls with color, but which one is best for you?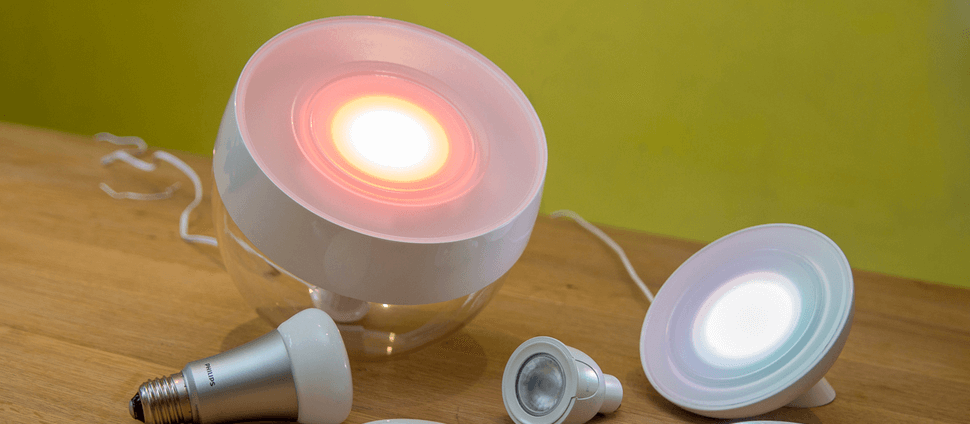 Philips Hue Iris (left) and Bloom (right)
Multiple Models
A little research may leave you utterly confused over which Bloom or Iris is right for you. Philips' lineup of different models can be broken down into two major categories: one that requires the Hue Bridge to function and one that does not.
The "Friends of Hue" labeled lights do integrate with your Hue Bridge along with the rest of your Hue system and are controlled with your phone via the Hue mobile app.
The "Living Colors" labeled lights do not integrate with the Hue ecosystem and are operated independently with a battery powered remote (included) rather than your phone.
Heads Up! Some product listings do not have the "Friends of Hue" designation. This does not mean it is a standalone fixture. The product description should say one way or the other if it integrates with other Hue Lights.
|   | "Friends of Hue" | "Living Colors" |
| --- | --- | --- |
| Works with other Hue lights | Yes | No |
| Remote | Yes, via the Hue mobile app | Yes, battery powered physical remote (cannot control with phone). |
(This comparison table scrolls left/right on small screens)
Comparison
Which smart light is better for you: Bloom or Iris? These contenders have two noteable differences: brightness and concealability.
Brightness
The brightness of the Bloom is nearly half of what the Iris projects. If you want to highlight a small accent wall or piece of art, the Bloom will do a fine job. On the other hand, if you want to colorize a larger wall with one of 16 million colors, the higher brightness output of the Iris is more suited for you.
Concealability
The shells on these lights are considerably different. The Bloom is discreet while the Iris is bulbous and flashy. If you want the fixture to blend in, the Bloom is around 30% smaller than the Iris and has its power cord positioned towards the light/subject so that it is easier to conceal. The Iris on the other hand has the power cord positioned away from the light and in the way.
Bottom line: If you're looking for a light that is subtle and easy to conceal, and you don't need to hit a huge wall, go with the Bloom. If you need to put a larger splash of color on the wall or you want a light fixture that stands out, the Iris is for you! If you're looking for a second opinion, see this discussion on reddit.
|   | Bloom | Iris |
| --- | --- | --- |
| Best for accenting | Corner/Item | Wall |
| Design | Discreet | Bulbous |
| Concealable | More so | Less so |
| Brightness | 120 Lumens | 210 Lumens (brighter) |
| Bulb Type | 8-Watt LED | 10-Watt LED |
| Dimensions (W/H/L Rounded) | 5" x 4" x 5" | 9" x 6" x 7" |
(This comparison table scrolls left/right on small screens)