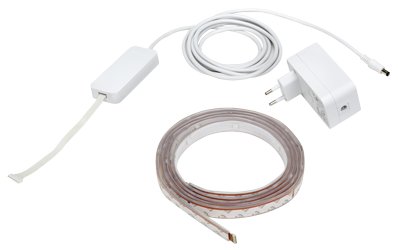 Overview
For clarification, this is the 2nd gen lightstrip: i.e. the better, longer, brighter light strip. This is the most flexible light source imaginable. Shape it, attach it to any solid surface and extend it up to 33 feet by adding 40 inch extensions.
How is this different than the LightStrip?
You may find the LightStrip being sold elsewhere on the web, but be warned that the regular LightStrip is the 1st generation lightstrip and is considerably less bright than the LightStrip Plus! If you find a good deal on the 1st gen and don't need the extra brightness, go for it. However, take note that the exact color output may vary, so you would be best advised to not mix and match the 1st gen and 2nd gen lightstrips too close to each other.
Specs
Light
20.5W LED
1600 lm @ 4200K
1000 lm @ 6500K
800 lm @ 3000K
600 lm @ 2200K
>80 CRI from 2000-4000K
Functional white light
All shades of white, from warm to cold color temperatures
16 million colors
Lifetime: 20,000 hrs
Software upgradeable
Technical
100 – 240V – 50/60 Hz
24 kWh/1000h
24V DC
W: 0.57 in
H: 0.19 in
L: 78.7 in
Extendable up to 32 ft
Cuttable @ every 12.9in/po
IFTTT
Philips Hue connected
In The Box
80 in/po base strip
1 power adapter
Discussion