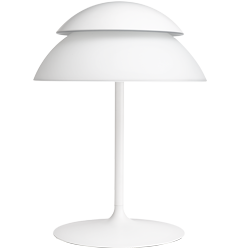 Overview
Iconic shaped lights with LightDuo technology that combine functional and mood lighting in one award-winning design. The Beyond lineup goes beyond the bulb and offers fixtures with built in lighting that is ready to connect with Hue. Some Beyond fixtures are intended for new home installation or remodels, while others like this lamp are ready to use out of the box.
Beyond vs Phoenix
The Beyond and Phoenix product lineups both offer plug-n-play table lamps along with wired fixtures ideal for a new home or home remodel. Two things set the Beyond and Phoenix linups apart: price and colored lighting. The Beyond lineup allows you to paint your room with color, but at a price, literally. The Beyond lights are significantly more expensive than the Phoenix fixtures, but the Phoenix fixtures can only produce white light at different color temperatures.
Color vs Ambiance vs White
The Hue lineup offers three different light bulb options. This lamp falls in the Color lineup. Color bulbs allow you to pick any color you want. Ambiance bulbs allow you to pick from many different shades of white. This allows flexibilty between a warm, inviting environment and an environment geared for focus. White bulbs offer the least in terms of features, but still leave you in control for dimming and turning on/off. Read more about choosing bulbs and color temperature in the Hue Lighting Guide.
Specs
Form
9W Hue LED engine
110-127 V / 50-60 Hz
IP 20
Class 2
Ø: 11.4 in, H: 15.9 in
Plug and play installation
Lumen
600 lm @ 4000K
510 lm @ 3000K
360 lm @ 2000K
550 lm @ 6500K
60 lm/W luminous efficacy @4000K
80 CRI from 2000–4000K
Light
Functional white light
16 million colours
All shades of white, from warm to cold color temperatures: CCT range 2000-6500K
IFTTT
Light Duo (up and down light module)
Philips Hue Connected
Discussion