This guide will help you determine which Hue components are best for your home. First we discuss the Hue Bridge, followed by a section guiding your decision on bulbs and color temperature. Lastly we will cover future expansion and additional lighting options that will help you take your home lighting to new levels.
Already a pro? Check out the Comparison Guide to easily filter and compare Hue products by different categories.
Step 1: The Bridge
The Hue Bridge is the brain that wirelessly controls your Hue lights. The bridge plugs into your router via ethernet and connects with your phone and light switch controllers to control your Hue lights. The Bridge is the only required dedicated piece of hardware other than the Hue light bulbs.
There are two versions of the Hue Bridge, the 1st generation and the 2nd generation. The 1st gen bridge works the same as the 2nd gen with the exception of Apple HomeKit. If you have or plan on integrating Hue with HomeKit, you will need the 2nd generation Hue Bridge. HomeKit aside, the 1st gen bridge is circular while the 2nd gen bridge is square shaped with rounded corners.
Important: Keep in mind that Apple HomeKit integration requires a 2nd Generation Hue Bridge.
Side-by-side 1st/2nd Gen Bridge Comparison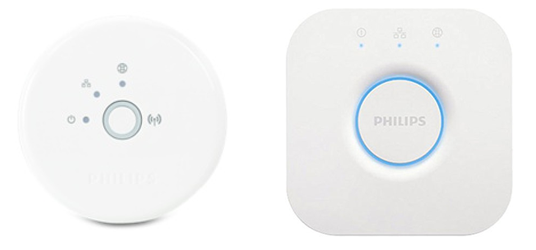 |   | 1st Generation Bridge | 2nd Generation Bridge |
| --- | --- | --- |
| Works with all Hue lights | Yes | Yes |
| Design | Circular | Square (rounded corners) |
| Apple HomeKit Compatible | No | Yes |
| Future Proof | No | Yes |
Some reports suggest the 2nd gen Bridge does a better job of handling more connected bulbs due to an increase in internal memory and processing power. However, if you do not need Apple HomeKit integration, consider saving yourself a few bucks with one of these 1st gen deals:
Guide: Check out our bulb type guide if you are not sure which type is compatible with your light fixtures.
Step 2: Light Bulbs
Here we will take a look at the main bulb lineup and the features offered by each. With Hue bulbs you can turn on/off, dim, pick from millions of colors, and set the color temperature. In a nutshell, the Color bulbs do everything, the "White Ambiance" bulbs do everything but color, and the "White" bulbs do everything but color and color temperature.
Main Bulb Feature Comparison
Color Temperature Matters

Visualizing light tempeatures, warm (left) to cool (right)
Color temperature determines how yellow (warm) or blue (cool) a light is. Many words could be used to describe this, but it is much easier to understand once you see it. Check out this guide on color ambiance and watch this 60 second video to visualize the same kitchen lighted with 3 different color tempeartures.
Fun Fact: Color temperature is measured in Kelvins and falls in the range of 1,000 to 10,000k (in the context of everyday lighting). Lower temperatures produce "warm" (yellow) light while higher temperatures produce "cool" (blue) light.
Bottom Line: If you want the full potential of your Hue system, the color bulbs have every feature! If you don't care about light color but do want to control color temperature (many different shades of white), the ambiance bulbs are a fantastic option! If light color and temperature are not your thing and you just want to control and dim your lights, the white bulbs will get the job done.
Step 3: Expansion / Next Steps
Special Lights
Take dynamic lighting to the next level with light strips, accent lights, and switches! Light strips are great for dynamic under-cabinet lighting in the kitchen, adding contrast behind a big screen TV, or adding a beautiful glow under your living room couch. Accent lights like the Bloom are perfect for splashing color on the wall or highlighting wall art.
The Hue Tap is a battery-free, wireless light switch that does not require any hookup or wires. Kinectic energy from your touch is all this smart device needs to power its signal! You can either use it like a remote control or wall-mount it anywhere to control 4 different light settings/scenes.
Additional products and comparisons can be seen on the compare guide.
Note: The Hue Bridge can support 63 lights, but 50 is the recommended limit in order to keep the lighting responsive.
Smart Home Systems
Hue works great on its own, but you can supercharge it when you hook into other smart home systems. Apple's HomeKit, Samsung's SmartThings, Insteon, Wink, and Echo are some of the leading systems compatible with Hue lights. These controllers will help you connect your lighting with other smart home hardware such as door locks and motion sensors.
If you found this guide helpful or have any questions, please let us know in the comments below.
FAQ