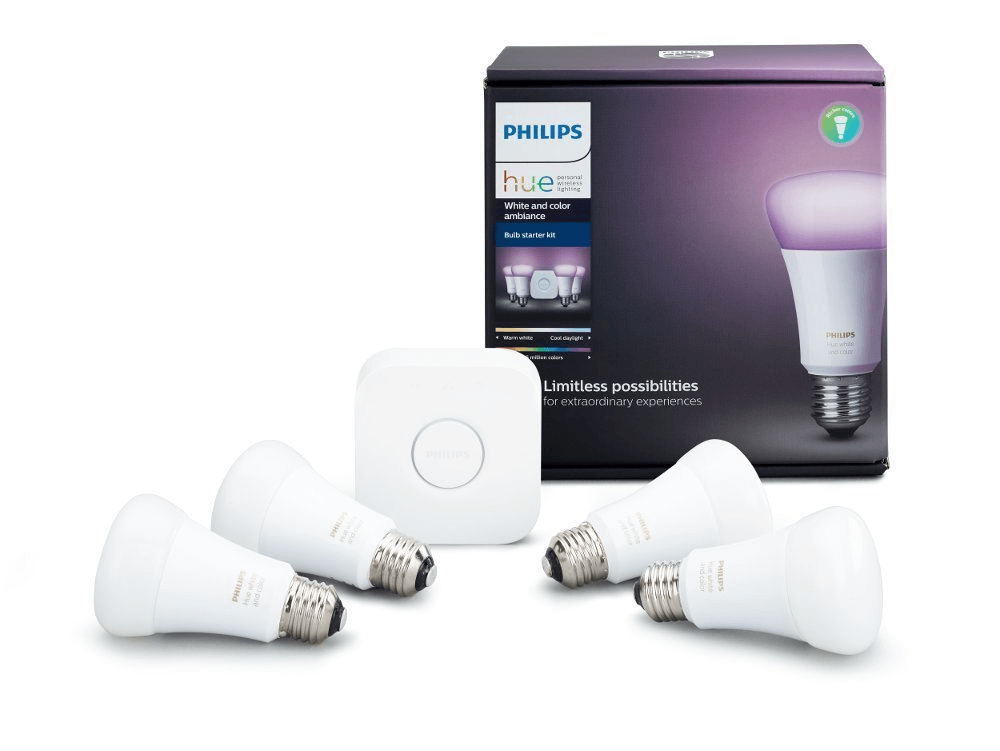 Overview
This starter kit gets you going with the best of what Hue has to offer. A bridge and 4 color bulbs can set color and warmth to any scene in your home! This 3rd generation Philips Hue white and color ambiance bulbs produce true blues and greens, unlike the 2nd generation bulbs.
2nd vs 3rd Generation
The 3rd gen Hue lights produce colors that are more vibrant compared to their 2nd gen predecessors. This is most apparent when producing blues and greens. The 2nd gen bulbs produced teal-like blues and lime-like greens. The 3rd gen bulbs equivalents produce colors that are true to the spectrum.
Color vs Ambiance vs White
The Hue lineup offers three different light bulb options. Color bulbs allow you to pick any color you want. Ambiance bulbs allow you to pick from many different shades of white. This allows flexibilty between a warm, inviting environment and an environment geared for focus. White bulbs offer the least in terms of features, but still leave you in control for dimming and turning on/off. Read more about choosing bulbs and color temperature in the Hue Lighting Guide.
Light/Bridge Compatibility
All lights and bridges are compatible. For example, 1st gen lights will work with a 2nd gen bridge. Likewise, 2nd and 3rd gen lights will work with a 1st gen bridge.
Specs
Bulb
E26 single contact medium
Screw base fitting 10W
A19 form factor
25,000 Hrs lifetime
<2 sec start up from AC power
<0.5 sec start up from standby
Software upgradable
Input voltage: 110V-130V
Lamp size: 2.4 inch * 4.3 inch
Lumen
800 lm @ 4000K
570 lm @ 2700K
342 lm @ 2000K
550 lm @ 6500K
80 lm/W luminous efficacy @4000K
>80 CRI from 2000–4000K
Light
Functional white light
16 million colours
All shades of white, from warm to cold color temperatures: CCT range 2000-6500K
Dimming only via RF down to 5% (no external dimmer)
Beam angle –160° ± 20°
Discussion