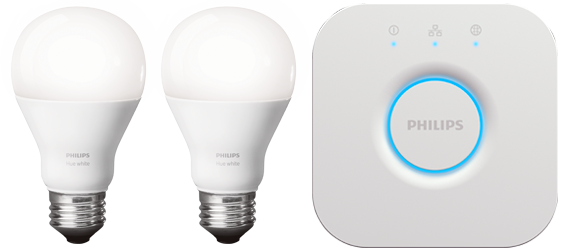 Overview
Get started with Philips Hue white bulbs and experience peace of mind by controlling your lights wherever you are.
Color vs Ambiance vs White
The Hue lineup offers three different light bulb options. Color bulbs allow you to pick any color you want. Ambiance bulbs allow you to pick from many different shades of white. This allows flexibilty between a warm, inviting environment and an environment geared for focus. White bulbs offer the least in terms of features, but still leave you in control for dimming and turning on/off. Read more about choosing bulbs and color temperature in the Hue Lighting Guide.
Light/Bridge Compatibility
All lights and bridges are compatible. For example, 1st gen lights will work with a 2nd gen bridge. Likewise, 2nd gen lights will work with a 1st gen bridge.
Specs
Bulb
E26 single contact medium screw base fitting
9.5W
0.5 W Standby power
A19 form factor
Nominal lifetime 25,000 Hours
50,000 switch cycles
Instant On
Software upgradable when connected to the Philips Hue bridge
Lumen
Light output 800 lm
Color temperature 2700K (soft white)
High quality dimmable white light
Beam angle 180° ± 20°
>80 CRI
What's Included
2x Philips Hue white light bulbs
1x bridge
1x Ethernet cable
1x power adapter
Discussion