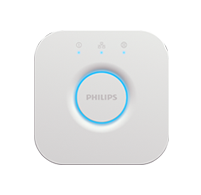 Overview
The Hue Bridge is the brain that wirelessly controls your Hue lights. The bridge plugs into your router via ethernet and connects with your phone and light switch controllers to control your Hue lights. The Bridge is the only required dedicated piece of hardware other than the Hue light bulbs.
1st Generation / 2nd Generation
There are two versions of the Hue Bridge, the 1st generation and the 2nd generation. The 1st gen bridge works the same as the 2nd gen with the exception of Apple HomeKit. If you have or plan on integrating Hue with HomeKit, you will need the 2nd generation Hue Bridge. Read more about choosing a bridge in the 3 Steps to Hue Guide.
Light/Bridge Compatibility
All lights and bridges are compatible. For example, 1st gen lights will work with a 2nd gen bridge. Likewise, 2nd gen lights will work with a 1st gen bridge.
Specs
Bridge
Max 50 bulbs per bridge and 12 Philips Hue accessories per bridge
Power consumption:300mA type
Zigbee Light link protocol 1.0 certified
Frequency band 2400–2483.5 MHz
Dimensions: 3.5 inch * 3.5 inch * 1 inch
Desktop or wall mounted
Software upgradable
Power
100–240 V AC / 50–60Hz
Output voltage: 5 V DC 2A
Standby power: 1.5W Max
Environment
Operational temperature: 32°F – 104°F
Operational humidity: 0% < H < 90%
Non-condensing
Discussion