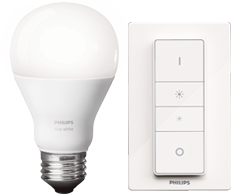 Overview
The perfect pair. A clever wireless switch that works directly out of the box and a Philips Hue white lamp. No wires, no electrician, no installation needed. Unlike some of the other Hue switches, this switch is powered by a battery. Switches like the Tap are powered by human touch and do not require batteries.
Color vs Ambiance vs White
The Hue lineup offers three different light bulb options. This kit packages a White bulb. Color bulbs allow you to pick any color you want. Ambiance bulbs allow you to pick from many different shades of white. This allows flexibilty between a warm, inviting environment and an environment geared for focus. White bulbs offer the least in terms of features, but still leave you in control for dimming and turning on/off. Read more about choosing bulbs and color temperature in the Hue Lighting Guide.
Light/Bridge Compatibility
All lights and bridges are compatible. For example, 1st gen lights will work with a 2nd gen bridge. Likewise, 2nd gen lights will work with a 1st gen bridge.
Specs
Switch
Connect up to 12 Philips Hue dimmer switches to your Hue Bridge
CR2450 battery included
Battery lifetime minimal 3 years
Wireless protocol: Zigbee Light Link (ZLL), IEEE 802.15.4
Frequency band: 2.4GHz (2400 – 2483.5 MHz)
Signal range: At least 39.3 ft, depending on local circumstances
Weight remote: 1.3 oz
Weight remote including wall plate: 2.4 oz
Dimensions wall plate: H:4.5in W:2.76in D:0.55 inch
Remote size: H:3.6in W:1.38 in D:0.43 inch
50,000 click lifetime
Software upgradable when connected to the Philips Hue bridge
Environment
Temperature (operation): 23 - 104°F
Relative humidity: 5-95% non-condensing
Discussion